PROJECTS
ZotCare: A Flexible, Personalizable, and Affordable mHealth Service Provider
The proliferation of Internet-connected health devices and the widespread availability of mobile connectivity have resulted in a wealth of reliable digital health data and the potential for delivering just-in-time interventions. However, leveraging these opportunities for health research requires the development and deployment of mobile health (mHealth) applications, which present significant technical challenges for researchers. While existing mHealth solutions have made progress in addressing some of these challenges, they often fall short in terms of time-to-use, affordability, and flexibility for personalization and adaptation. ZotCare aims to address these limitations by offering ready-to-use and flexible services, providing researchers with an accessible, cost-effective, and adaptable solution for their mHealth studies.
Intuition
Our primary objective with ZotCare is to introduce a comprehensive programmable service orchestration, that combines the advantages of both state-of-the-art mHealth platform and service solutions while remaining within the services category. ZotCare is specifically designed to operate within a shared environment, accommodating multiple organizations, studies, and researchers. This shared environment facilitates reduced setup time and costs compared to traditional mHealth platforms. ZotCare offers extensive customization options across various levels, including development, configurability, and programmability. These customization capabilities allow for seamless implementation of new features and functionalities tailored to specific research needs. Notably, ZotCare excels at the programmability level, providing researchers with diverse tools to achieve the personalization and adaptation required in modern mHealth studies. Figure below illustrates how researchers can leverage ZotCare's programmable services to attain personalized and adaptive features within their experiments, eliminating the need for additional development efforts.
Services and Interfaces
Data Collection Services facilitate the ingestion of data from diverse devices, applications, and services. Once collected, the data undergoes processing and is stored as a continuous stream within ZotCare.
Profile Services assume responsibility for the storage and processing of data in the form of key-value pairs. This storage mechanism enables the creation of profiles for participants and groups, serving as a repository for personalized study-related data and models, as further elucidated subsequently.
Through Real-time Processing, Intervention, and Integration (RPII) Services, researchers possess the capability to incorporate adaptive, intelligent, and real-time components into their studies. These components are capable of triggering various actions based on the data obtained from the Profile and Collection services.
In conjunction with these services, ZotCare provides two interfaces: a customizable dashboard and a user-facing mobile application.
Customizable ZotCare dashboard serves as a web application, offering researchers an interface for accessing and modifying ZotCare services pertinent to their respective studies. Researchers can employ the dashboard to manage collected data, recruit participants, and customize it for clinical purposes if desired.
ZotCare mobile application, on the other hand, functions as a user-facing mobile application for participants. It allows them to interact with ZotCare services, enabling functionalities such as receiving reminders, engaging in ecological momentary assessments (EMAs), and benefiting from adaptive mobile health interventions. Moreover, ZotCare facilitates the integration of contextual and behavioral monitoring applications, commonly referred to as lifelogging applications.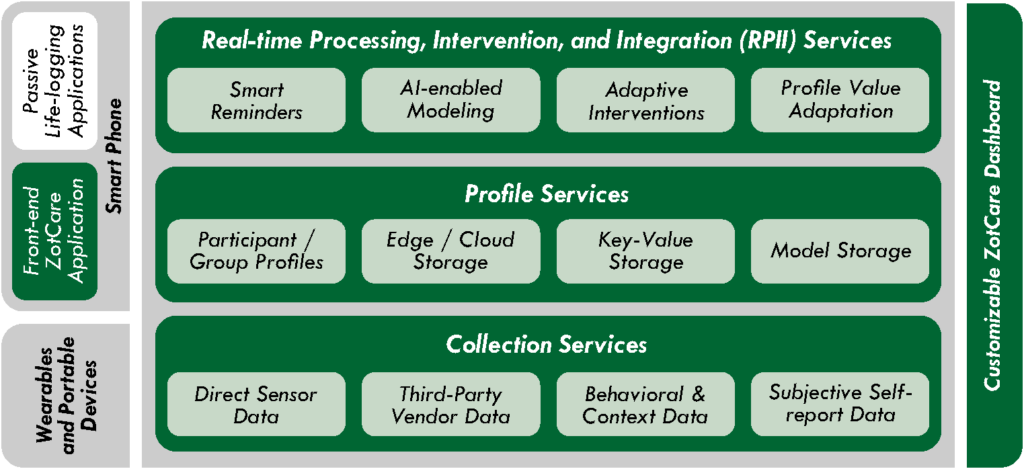 Use ZotCare for Your Next Study
If you are interested in using ZotCare for your next mHealth study, please fill out this form, and we will reach out to you.
Use Cases
MHN Project
The Mental Health Navigation (MHN) project develops a proactive, personalized approach to monitor, estimate, and guide individuals toward their desirable mental health state. MHN monitors a multimodal stream of objective and subjective information to build inference models to determine participants' mental states, context, and lifestyle. Using the constructed personal model and the current state, a navigator system can steer the participants using interventions at each step. The MHN project comprised two studies, the Affect and Loneliness studies.
Publications

Sleep Patterns and Affect Dynamics Among College Students During the COVID-19 Pandemic: Intensive Longitudinal Study Journal Article

In: JMIR Formative Research, 6 (8), pp. e33964, 2022, ISSN: 2561-326X.

Personal mental health navigator: Harnessing the power of data, personal models, and health cybernetics to promote psychological well-being Journal Article

In: Frontiers in Digital Health, 4 , 2022.

Objective Prediction of Tomorrow's Affect Using Multi-Modal Physiological
Data and Personal Chronicles: A Study of Monitoring College Student
Well-being in 2020 Journal Article

In: CoRR, abs/2201.11230 , 2022.

Assessing the Mental Health of Emerging Adults Through a Mental Health App: Protocol for a Prospective Pilot Study Journal Article

In: JMIR Research Protocols, 10 (3), pp. e25775, 2021.

Using Multimodal Assessments to Capture Personalized Contexts of College Student Well-being in 2020: Case Study Journal Article

In: JMIR formative research, 5 (5), pp. e26186, 2021.

Nine Months in the Life of a College Student During 2020: A Case Study Using Multi-Modal Assessments to Capture Personalized Contexts of Well-being Journal Article

In: 2020.
UNITE Project
Smart, Connected, and Coordinated Maternal Care for Underserved Communities (UNITE) is a research project funded by the United States National Science Foundation, with the primary objective of developing innovative technologies to enhance the physical and emotional well-being of underserved pregnant women and their newborns. The UNITE initiative endeavors to revolutionize conventional maternal care practices, which have traditionally been delivered within homes or clinics, by integrating an AI-supported remote monitoring system. The project comprises three distinct phases, each with its specific focus and objectives.
Source Codes