NEWS
NIH funds minority underserved family caregiver home visit intervention study
January 3, 2021
The National Institutes of Health (NIH)/National Institute on Aging (NIA) has awarded the UCI Sue & Bill Gross School of Nursing a $3.6 million research project grant to implement a home-based, culturally and language specific caregiving intervention for underserved dementia family caregivers.
Associate professor Jung-Ah Lee, PhD, the study's primary principal investigator, points out that two-thirds of caregivers for persons with dementia (PWD) are women and most often family. One-third of them are also over 65.
The toll of caregiving
"Dementia takes a toll on caregivers. It often results in chronic stress, depression, sleep disorders, poor health-related quality of life and early mortality," Lee says.
Underserved populations, particularly Latino and Asian minorities, also face barriers to dementia care.
Frequently, caregivers underutilize available public health services and delay treatment until a situation has become unmanageable. Often, they cite a number of barriers to getting care, including language, time and finances.
Home visit intervention study provides tools
Lee's home visit intervention study will give family caregivers the tools they need to develop a positive relationship with the PWD through education and information.
Assistant nursing and computer science professor Amir M. Rahmani, PhD, is co-principal investigator on the project to measure stress, sleep, and activities through wearable technology such as smart-watches and smart-rings.
Lee and Rahmani want to fill a knowledge gap. There is little research on the effects of technology-driven behavioral interventions on family caregivers in underserved communities.
Wearable tech will monitor participants
The intervention will incorporate stress reduction techniques, such as mindful breathing and compassionate support/listening. These techniques will improve family relationships, reduce depression and ultimately make caregiving less burdensome and enhancing self-efficacy.
Wearable technology will measure the participants' physiological responses to stress, sleep and activity.
Dr. Lisa Gibbs, MD, medical director of UC Irvine Health Senior Health Center is a key clinical co-investigator in this project helping the research team research out to the communities and advising clinical aspect as well.
"It's important to monitor the caregiver's health and well-being," Lee says. "It's also important that they maintain a positive relationship with their loved one living with dementia."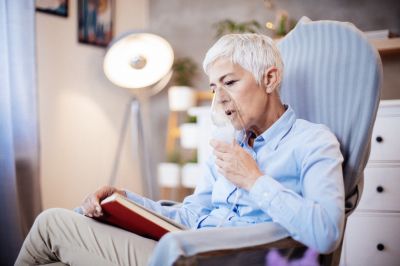 Long-haul COVID symptoms can include shortness of breath, chest pain, cough and abdominal pain.